Last Updated on June 21, 2023 by J.SCALCO
Who are the Top / Best EDM Artists? Electronic Dance Music (EDM) is a music genre that has experienced an unprecedented surge in popularity over the last few decades – and deservedly so. The catchy rhythms, enchanting melodies, and complimenting sound additions seem to make even the most rigid individuals bob their heads and tap their feet to the beat. These amazing artists and their beats can light even the saddest songs on fire!
Although EDM music stepped into the limelight a few years ago, it's actually a movement that has been gaining momentum in the underground music scene since the 80s.
It's not until 2010 that iconic artists such Deadmau5, Tiesto, Swedish House Mafia, Avicii, and Skrillex started creeping out of the shadows – beckoning the Golden Age of EDM music.
In fact, the 2012 International Music Summit (IMS) Business Report ranked electronic dance music as the fasted growing mainstream genre in the U.S. A decade later, the latest IMS Business Report estimates that EDM music is currently the 3rd most popular music genre with over 1.5 billion listeners.
What is EDM Music?
If you're new to the electrifying world of EDM music, it's easy to feel overwhelmed by the varying musical themes, content, context, and techniques. This leaves you wondering, what exactly is Electronic Dance Music?
Simply put, EDM is an umbrella term (a concoction, if you may) covering several music genres – which are similar but not identical. Although the list of music genres that are categorized as EDM is quite extensive, some popular sub-genres include Trance, Techno, House, Electropop, and Dubstep. These EDM music genres are typically characterized by drumming, a laid-over melody played by a synthesizer and a repetitive percussion track.
12 of the Top / Best EDM Artists
The EDM industry has a truckload of legends and amazing new talent. This review looks at the best EDM artists based on their impact on the fanbase. This includes artists that touch our hearts with their melody and those that make you want to rave from dusk till dawn. Below are some of the top EDM artists to ever grace the EDM music scene:
Avicii
It's hard to mention Avicii (born Tim Bergling) without feeling a certain level of inspiration and warmth filling our hearts. The Swedish EDM artist is widely regarded as one the standout acts of his generation – and his track record justifies his high stature in the industry.
Since releasing 'Levels' back in 2011 – which went on to win a Grammy in 2012 – Avicii experienced a meteoric rise to stardom. Other popular music compilations/albums include True (2013), Days/Nights EP (2014), Stories (2015) and Tim (2019).
Prior to his death in 2018, Avicii amassed a basketful of awards and achievements. This includes multiple awards for 'Wake Me Up,' the "Best Solo Artist" at the 2013 International Dance Music Awards, and the American Music Awards' "Favorite Electronic Dance Music Artist." In a nutshell, Avicii was arguable the best EDM artist based on his ability to touch people's hearts with his music.
---
Marshmello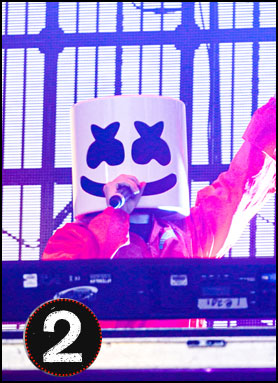 Who is Marshmello? This is a question that has aroused a heated debate since the American producer, and DJ burst into the EDM music scene. Although several media outlets claim that Marshmello is a pseudonym for Chris Comstock (aka. DJ Dotcom), there is no official confirmation. We only know him by the white costume and marshmallow-looking helmet with a weird smiley face.
Marshmello gained international recognition after releasing catchy remixes with Zedd and Jack Ü back in 2015. He went on to showcase his talent through a series of albums titled Joytime (2016), Joytime II (2018), and the latest Joytime III (2019). Some of his most iconic tracks include 'Happier,' 'Alone,' 'Wolves,' and 'Silence' – all of which ranked highly in the Billboard Hot 100list.
According to reports by Forbes, Marshmello is one of the fastest-growing EDM artists in the world. In just two years since his first public gig in 2015, the EDM music producer and DJ earned a whopping $21 million. It seems the infectious hits and ingenious marketing propelled Marshmello into a top EDM artist.
---
David Guetta
As one of the first DJs in the mainstream EDM music scene, David Guetta has been a household name for the last decade. Some even call him an EDM legend or the grandfather of EDM – and here we refer to David Guetta as one of the best EDM artists in the world.
The French songwriter, record producer, and DJ first hit the airwaves in 2009 after he released the career-defining album, One Love. The album included viral singles such as 'Sexy Bitch,' 'Gettin' Over You,' and 'When Love Takes Over' – all of which topped in the UK. The same year, David Guetta ranked third in the DJ Magazine's"Top 100 DJs." Two years later in 2011, he earned the top spot in the DJ Mag'spoll.
Other notable tracks include 'Turn Me On,' 'Titanium,' 'Without You,' 'Little Bad Girl,' and 'Where Them Girls At' in his 2011 Nothing But the Best album. The hit song 'I Gotta Feeling' featuring Black Eyed Peas was nominated twice during the 52ndGrammy Awards.
---
Skrillex
By a raise of hands, who hasn't heard of Skrillex? You know, the earnest guy with banging tunes, eyeglasses, and a rather unique hairstyle. Whether you're a millennial, Gen Zer, or even a Baby Boomer, there's a good chance you've heard a murmur of Skrillex somewhere. This is because the American EDM artist has been performing his trade since the early 2000s.
Skrillex gradually 'clawed' his way into mainstream media – dragging Dubstep along with him. The highly sought-after and renowned EDM DJ is most recognized for the groundbreaking compilations, Scary Monsters and Nice Sprites EP, and Bangarang EP – both of which won multiple awards in 2011. With 8 Grammy awards in his trophy cabinet, Skrillex is undoubtedly one of the best EDM artists.
As a top EDM artist, Skrillex has partnered with other titans in the industry including Jack Ü, Diplo, and Boys Noize. The magical influence of Skrillex extends beyond the EDM music scene, as shown by his collaborations with the Kingdom Hearts video game, Incubus, and even Justin Bieber.
---
Calvin Harris
As far as the net worth is concerned, Calvin Harris is arguably the best EDM artist – and as they say, money doesn't lie! From working in a fish factory, a supermarket, modeling for Emporio Armani, and recording music from his teenage bedroom, becoming a top EDM artist worth a staggering $190 million, the Scottish DJ is a force to be reckoned with.
His good music is beloved by both ravers and people who put thought to the meaning of a song. Having produced music for pop icons such as Dua Lipa, Sam Smith, and Rihanna, Calvin Harris' talent is beyond doubt. His skill set even extends beyond music production and playing the decks, as evidenced by the hit tracks 'My Way' and 'Summer' – which featured his own vocals.
Calvin Harris has been nominated five times in the 55th, 56th, and 60thGrammy Awards, and won over 32 international awards. During the recent 2019 BRIT Awards, Calvin Harris won the "Producer of the Year" and the "British Single of The Year" award along with Dua Lipa for their hit track, 'One Kiss.'
---
Alan Walker
What pops up when you google, "Faded?" I'm willing to bet that Alan Walker dominates the entire first Google page, right? This is because the 2015 track is widely regarded as the most popular EDM song with over 2.5 billion YouTube views – and hence, Alan Walker's induction into our list of the top EDM artists.
'Faded' received multi-platinum certifications in the U.S., UK, and several other countries catapulting Alan Walker into the premier league of EDM artists. The DJ Mageven ranked him as the Highest Climber in their 2017 list of the "Top 100 DJs."
But it's not just about 'Faded' – Alan Walker has released other popular tracks, including 'Sing Me To Sleep' (2016),'Alone' (2016),'Tired' (featuring Gavin James, 2017),'Darkside' (2017),'Diamond Heart' (2018),'Different World' (2018), 'Are You Lonely' (featuring ISAK and Steve Aoki, 2019), and 'On My Way' (featuring Farruko and Sabrina Carpenter, 2019)
---
Tiesto
Tiesto – aka. "The Greatest DJ of All Time," according to Mix Magazine – is an EDM DJ who doesn't need an introduction. The Dutch superstar was one of our easiest and most straightforward picks of the top EDM artist – and why wouldn't he? Tiesto is a trailblazer in the mainstream EDM music. Popular EDM artists such as Martin Garrix are even quoted admitting that Tiesto inspired them to pursue careers in electronic dance music.
His albums include In My Memory(2001),Just Be(2004), Elements of Life(2007), Kaleidoscope(2009), and A Town Called Paradise(2014). Tiesto also earned widespread recognition for his five "Club Life" DJ mixes, which spanned 6 years.
In 2013, readers of the DJ Magvoted Tiesto as the "best DJ of the last 20 years" to add to his already crowded list of over 40 international awards, including a Grammy(2015) and the Golden Harp(2007).
---
Swedish House Mafia
We couldn't help! There is no way this list would be complete without one of the greatest acts of EDM's golden age. The trio group consists of Sebastian Ingrosso, Steve Angello, and Axwell – each of whom is a celebrated artist in his own respects. To the surprise of fans, the group separated in 2013, only to reunite 5 years later at the 2018 Ultra Music Festival in Miami.
Most famously known for their 2012 hit track – 'Don't You Worry Child' – Swedish House Mafia carved a special place in all of our hearts. From the beat to the message in their music, this is a group that helped set the stage for other aspiring EDM artists. While still together, they released several other sensational tracks, including 'One' (2010), and 'Save the World' (2011). 10 International Dance Music Awards, 2 European Music Awards, and 2 Grammynominations are just a few of the international awards claimed by Swedish House Mafia.
---
Armin Van Buuren
Arguably one of the longest-running EDM DJ, Armin Van Buuren has experienced an impressive transformation as a top EDM artist. Whichever EDM genre is trending, the Dutch legend seems to adapt to the shifts. Fun Fact: Did you know that Armin Van Buuren was born on December 25th? He's probably Santa's gift to the EDM music scene.
While Avicii earned a place in our list of the top EDM artists for touching our hearts, Alan Walker for a groundbreaking track, and Calvin Harris for monetary worth, Armin Van Buuren is the best EDM artist as far as awards are concerned. In over 2 decades of electrifying performances, Armin Van Buuren boasts of countless awards and nominations to major competitive awards. This includes 14 DJ Awards, #1 in DJ Mag's"Top 100 DJs" (four times in a row), over 40 awards by the International Dance Music Awards, and more.
---
Deadmau5
Deadmau5 (pronounced Dead Mouse) can be described as talented, inspiring, and somewhat provocative. He is like a bucket of spicy chicken wings – hot, yet irresistibly delicious. The Canadian DJ has garnered a near cultic following in the EDM music scene, making him one of the top EDM artists. P.S. His stage name means is quite literal, stemming from a dead mouse that was found in his computer.
Although Deadmau5 primarily produces progressive house music, he is actively involved in other electronic dance music genres. Such is his recognition in the EDM music industry that he has been included in presentations by top EDM artists such as Armin van Buuren's A State of Trance, and Tiësto's In Search of Sunrise 6: Ibiza. You might also recognize Deadmau5 by his infamous Cube – especially the Cube 3.0 visual masterpiece.
When it comes to controversy, Deadmau5 is not one to hold back. As an opinionated guy he has been the subject of several online feuds with other popular artists, including Kanye West, Justin Bieber, Madonna, Skrillex, and even the entire EDM industry. Regardless of your opinion of Deadmau5, there's no denying that he is one of the best EDM artists in the world. It's also worth noting that he is among the highest-paid EDM performers in the world.
---
Martin Garrix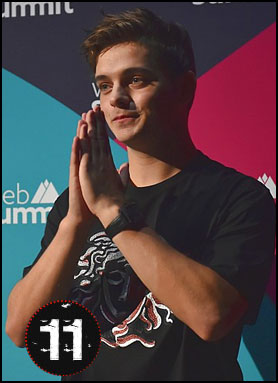 Similar to Alan Walker, Martin Garrix is a new-age EDM artist who got his major breakthrough from his 2013 release of 'Animals.' Since then, he has been arguably the most recognized name in dance music. In fact, he jumped from position 40 of DJ Mag's "Top 100 DJs" list in 2013 to position 4 in 2014 – talk about instant stardom. The 23-year-old Dutch EDM artist boasts of some of the best music productions in industry, earning the respect of Tiesto and other artists.
He has performed in iconic music festivals such as Creamfields, Tomorrowland, Electric Daisy Carnival, Coachella, and Ultra Music Festival when he was just 17 years of age. Between 2016 and 2018, Martin Garrix ranked as the #1 DJ in DJ Mag's "Top 100 DJs" list. In the few years he has been on the scene, Martin has received over 25 nominations to major awards, winning 19.
---
Diplo
Last but definitely not least is Diplo, aka. Thomas Wesley Pentz. He goes by many trades – and he is easily one of the best EDM artists in all he does. Think of LSD, Major Lazer, Jack Ü, and Silk City – what do these supergroups have in common? Well, they are all Diplo – at least part of them. The super producer is a literal jack of all trades from spearheading the Mad Decent record label to producing hit songs for Beyoncé, Madonna, Rihanna, and Justin Bieber.
Since 1997, Diplo has won several major awards for his well-appreciated contribution to Electronic Dance Music, including an American Music Award(2015), 2 Grammy Awards(2016), an International Dance Music Award(2016), MTV Video Music Awards(2015), and the Electronic Music Awards(2017). In the recent 2019 Grammy Awards,Diplo won the "Best Dance Recording" along with Dua Lipa and Mark Ronson.
---
---
Top EDM Artists According to Google
Photo Credits:
The Perfect World Foundation – CC BY 3.0
Ted Eytan – 2019.06.09 Capital Pride Festival and Concert, Washington, DC USA 1600206 – CC BY-SA 2.0
Parlophone  – CC BY 3.0
Amnesia Ibiza – Flickr: Skrillex @ Amnesia – CC BY 2.0
Maximilian Wild – CC BY-SA 4.0
mtheory LLC – CC BY-SA 3.0