Last Updated on June 23, 2023 by J.SCALCO
Sadness comes in many forms. It may be a nasty heartbreak. The tragic loss of a loved one. Or a feeling of burn-out, which is now recognized by the World Health Organization (WHO) as a syndrome tied to chronic workplace stress. But whatever your heartache, there is a song that captures and resonates with your sorrow and that could be one of the saddest songs in your book.
Music has an almost enchanting ability to evoke profound emotions from the deepest crevasse of our hearts. It can fuel your anger, make you well up with sorrow, or provide much-needed comfort in times of loss.
It might feel counterintuitive to drown your sorrows in the melodies and relatable lyrics, but a good sad song can actually help you acknowledge your feelings, lifting you up from your depressed state.
In fact, an article published in Psychology Today reads, "Research has suggested that sad music plays a role in emotional regulation. It evokes pleasant emotions such as bliss and awe, along with sadness, and is more likely than happy music to arouse the intensely pleasurable responses referred to as "chills." Accompanied by the release of hormones such as oxytocin and prolactin, associated with social bonding and nurturance, sad music can facilitate recovering positive mood."
When life rears its ugly head, it's healthy to just let it out. While sometimes a depressing moment calls for a shoulder to cry on, other times all you want is to retreat to your fortress of solitude holding a bunch of tissues and headphones blaring a soundtrack that seems to speak to your heart.
If you're wondering what is the saddest song that will make you cry, read on for a well-curated list of the top sad songs of all time.
What are the Top Saddest Songs?
Top sad songs are those that evoke intense emotions in the listener. They are soundtracks to our deepest selves when we feel vulnerable; when we're down in the dumps; when life knocks us sideways. A good sad song speaks to your hurt through its melancholic lyrics – gently or abruptly nudging you towards acknowledging your feelings, which is a painful but necessary step towards healing.
Now, let's get right into it. What are the top sad songs of all time? Here is my pick for heart-wrenching sad songs that might make you cry your heart out.
Please note that this list is neither conclusive nor absolute. It's based on personal opinions, polls, and in-depth research. What you deem to be the saddest song of all time might not cut it for another. It all depends on what resonates most with your unique circumstances.
10. "Death by a Thousand Cuts" – Taylor Swift
Taylor Swift is the patron saint of heartbreak songs. While most of the synth-pop anthems, occasional cover, and teen country tracks in her songbook are often inspired by her public breakups, she takes a different approach with 'Death by a Thousand Cuts'.
As reported by Billboard 'Death by a Thousand Cuts' is inspired by Netflix rom-com Someone Great. She explains: "It's a movie about how she has to end this relationship that she didn't want to end because she's still in love with the person but they just grew apart and he's not a jerk. It's just sad because it's just realistic, time passed and now we're different people and that is the most devastating thing."
The track cuts deeps riding on Taylor's vocals in a way that feels personal and real—which is why it makes it into this list of top sad songs. She sings: "Cause I can't pretend it's okay when it's not / It's death by a thousand cuts."
9. "I Can't Make You Love Me" – Bonnie Raitt
It doesn't matter if you've never heard Bonnie Raitt's 'I Can't Make You Love Me', the song's emotional delivery and moving lyrics are bound to take you on an emotional rollercoaster.
The track is based on a case where a man was arrested for shooting at his girlfriend's car and when questioned by the judge on what he took away from the incident, he said, "I learned, Your Honour, that you can't make a woman love you if she don't."
Vocal powerhouse Adele even confessed that 'I Can't Make You Love Me' is one of her favorite songs, saying: "It makes me really, really happy and really, really devastated and depressed at the same time. It makes me think of my fondest and best times in my life, and it makes me think of the worst as well, and combined, probably is a recipe for disaster, but I do love this song. It's just stunning."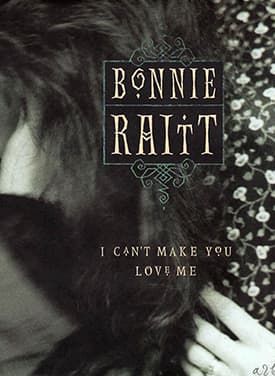 8. "It's Too Late" – Carole King
Critics acclaim 'It's Too Late' by Carole King as one of the best breakup songs of all time. The 1971 Grammy Award-winning song was part of her landmark album Tapestry—which is a collection of poignant yet gorgeous sad songs mostly revolving around heartbreaks.
King is known for her ability to bring lyrics to life – and 'It's Too Late' is not an exception. Each word seems to pop out and speak to your breaking heart.
"One of us is changing
Or maybe we just stopped trying
And it's too late, baby, now it's too late
Though we really did try to make it
Something inside has died
And I can't hide and I just can't fake it"
7. "Close to You" – Rihanna
Most of us have struggled to move from a past love in our lives—and Rihanna captures this painful feeling in her haunting piano ballad, 'Close to You'.
The song appears to hint at a previous flame in her life who is no longer there or doesn't want to be in her life. Yet she still thinks about him and sends love his way. As a good sad song, 'Closer to You' reminds us not to be bitter when things don't work out in a relationship; to wish another well even when walking away hurts.
"Nothing but a tear, that's all for breakfast / Watching you pretend you're unaffected / You're pulling our connections, expecting me to let you go / But I won't / I know you don't need my protection / But I'm in love, can't blame me for checking," she sings.
6. "I Will Always Love You" – Whitney Houston
If you thought Whitney Houston's 'I Will Always Love You' was a happily-ever-after narrative, hate to burst your bubble but it's quite the opposite. It's one of the saddest songs in that the singer confesses that she will always love the other person, yet they can't be together because they are not right for each other.
And while we often credit the iconic power ballad to Whitney, 'I Will Always Love You' is actually the brainchild of country songstress Dolly Parton. But there's something about how Whitney turned the song into a slow jam christened by her sky-high craping notes that always feels stirring.
5. "Tears in Heaven" – Eric Clapton
You'll need a packet of tissues close to you for this one. Eric Clapton's 'Tears in Heaven' is probably the most emotional song you'll ever hear.
The song is a memorial to Conor, Eric Clapton's son who fell 50 stories to his death at the age of 4. Following the tragic event, Clapton went into reclusion for several months to mourn the loss. He was later enlisted to write a song for the movie Rush in collaboration with songwriter Will Jennings.
"Eric and I were engaged to write a song for a movie called Rush. We wrote a song called 'Help Me Up' for the end of the movie… then Eric saw another place in the movie for a song, and he said to me, 'I want to write a song about my boy,'" Jennings recalls.
Tying the songs to its backstory makes 'Tears to Heaven' one of the top sad songs to cry to. The sadness rolls through like a fogbank, leaving you with teary eyes.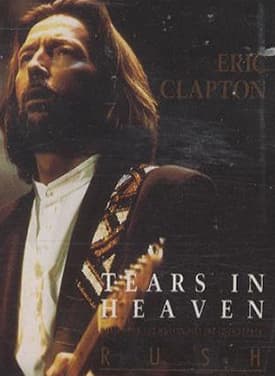 4. "Nothing Compares 2 U" – Sinéad O'Connor
The original version of 'Nothing Compares 2 U' was penned by Prince – but it's the Irish singer, Sinead O'Connor's, rendition that really gave the track an identity. Arguably the biggest hit of her career, the song topped charts and drastically changed her life.
Part of what makes 'Nothing Compares 2 U' one of the saddest songs to make you cry is O'Connor's deeper emotional resonance and her interpretation of the lyrics. While it's easy to assume that the track is as a forlorn lover's ballad, O'Connor's version channels the profound grief of losing her mother—dialing up the sad factor several notches.
As she narrates in her autobiography Rememberings, "My cover of Prince's 'Nothing Compares 2 U' was something I was always – and am always – singing to my mother. Every time I perform it, I feel it's the only time I get to spend with my mother and that I'm talking with her again. There's a belief that she's there, that she can hear me and I can connect with her."
Referring to her music video, she further explains, "I just sang the song along with the track, sitting in a chair wearing a black polo neck – but in the part where it says, 'All the flowers that you planted mama, in the backyard, all died when you went away,' I cried for like twenty seconds."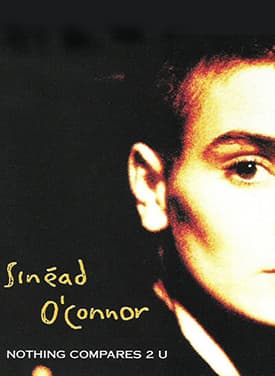 3. "Something in the Way" – Nirvana
While other sad songs on this list talk of heartbreaks and the loss of loved ones, Nirvana's 'Something in the Way' tells a story about a lost soul with a desperate yearning to find the self.
The violin, vulnerable/raw lyrics, and Cobain's hummed vocals gel perfectly to create the slow ballad. It speaks to downright desperation giving way to resignation. The chord progression and plodding simplicity tugs at the psyche, nudging you into a world of self-contemplation.
'Something in the Way' has been the subject of wild interpretations—with some arguing that it's an autobiography of Cobain, in which he recounts his time sleeping under a bridge. Although the accuracy of Cobain's time living under a bridge is questionable, historians seem to agree that his haunting composition was inspired by the Young Street Bridge.
When Kurt Cobain says "Something in the way," he expresses his emotions and the idea that everything (including himself) gets in the way every time he tried to feel better.
2. "Someone Like You" – Adele
Heartbreaks are hard. They leave you feeling broken, embarrassed, and punched in the gut. If you're going through a hard breakup, there's a sad song for that – and it likely features Adele's powerful ballads that tend to hit the full spectrum of human emotions.
Heartbreaking breakup love songs don't get more intense than Adele's 'Someone Like You'. With a whopping 1.8 billion YouTube views and counting, the song easily earns a spot in any "Saddest Songs of All Time" list.
'Someone Like You' is supposedly based on a true story. It's about a defunct relationship with a guy who broke the songstress' heart and went on to get engaged to someone else a few months later.
In one of her interviews, Adele explains: "We were so intense I thought we would get married. But that was something he never wanted. So when I found out he does want that with someone else, it was just the horrible-est feeling ever. But after I wrote it, I felt more at peace. It set me free. I didn't think it would resonate with the world! I'm never going to write a song like that again. I think that's the song I'll be known for."
As the infectious lyrics go,
I hate to turn up out of the blue, uninvited.
But I couldn't stay away, I couldn't fight it.
I had hoped you'd see my face.
And that you'd be reminded that for me, it isn't over.
Never mind, I'll find someone like you.
I wish nothing but the best for you, too.
1. "Hurt" – Nine Inch Nails / Johnny Cash
If there's a sad song that has made countless people cry their eyes out, it has to be 'Hurt' by Nine Inch Nails—and later covered by Johnny Cash. Don't believe me? Just scroll through the comments on its YouTube video to get a snapshot of the song's impact.
NIN's eerie downer is particularly moving when you're feeling hopeless and down. It allows you to let out a good cry before picking yourself back up.
While Nine Inch Nails' original was an excellent sad song in its own right, it is Johnny Cash's brooding rendition of 'Hurt' that immortalizes the track. The Country icon's heart-stopping and sublime cover is interpreted as a death-bed confessional in which his deep baritone quivers against wispy chords.
"Under Control" - J.Scalco
Under Control is a masterful blend of heartfelt lyrics and a catchy melody that will dig deep into the psyche of anyone struggling with hardships.
The relatable song speaks of a couple in troubled times that  realize life is too uncertain to waste time with the people who matter most.
Saddest Songs of All Time Playlist on Spotify
Saddest Songs Honorable Mentions
More Sad Songs to Cry to
"I Don't Love You Anymore" – ANOHNI
"Skinny Love" – Bon Iver
"Drew Barrymore" – SZA
"When I Was Your Man" – Bruno Mars
"Cat's in the Cradle" – Harry Chapin
"He Stopped Loving Her Today" – George Jones
"Casimir Pulaski Day" – Sufjan Stevens
"Everybody Hurts" – R.E.M.
"Back to Black" – Amy Winehouse
"How to Disappear Completely" – Radiohead
What's the saddest song you've ever heard?